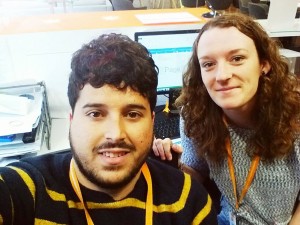 Pablo and Celest
Hi! I'm Celest and I've been studying at the School of Translation and Interpreting in the Netherlands, Maastricht, and am doing my internship here at EC in Manchester. I've been here now for almost a month and really enjoy both the school and Manchester.
Compared to my hometown, this city is very big and feels so alive. There is always something to see or do. From going out in the clubs, getting a pint in one of the pubs in the Northern Quarter, going to a concert in the Ritz or Manchester Central, to shopping in Arndale.
I really enjoy working at the school! Because the school is relatively small, you get to know everyone and because it's a school for people who are learning English, you get to know a lot of different cultures as well, which can be really interesting. I've already met some really great people and know for sure that the next four months are going to be as awesome as the last one has been.
Cheers!
Comments
comments