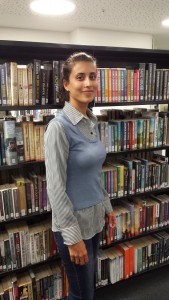 About me:
My name is Sameh Drira and I live in Manchester.
My passion has always been books, travelling and teaching. I speak Tunisian, Standard Arabic, French and I'm learning Spanish!
My dream is to travel around the world! I've already visited 20 countries so far and I love collecting miniatures as a souvenir representing each city/ country.
Professional experience:
I have an MA in Theoretical and Applied English Linguistics and an MA in English/Arabic Translation. I worked as a freelance translator and translating film scripts was what I enjoyed the most.
I have a CELTA and I took a development course in order to be able to prepare students for the IELTS test. (I know the IELTS test inside out as I passed it myself!).
I gained valuable experience teaching both adults and teenagers working at a private high school in the Middle East and volunteering at a language school in Manchester.
I have been an EFL teacher at EC English for almost a year and I'm enjoying it!
My classes are…
..student-centred where my role is to enable learners to become their best through effective and interactive lessons. My students are the source of inspiration as to how to plan my future lessons.
You are all here to learn and discover a new language by following an English course, so don't worry about making mistakes, relax and have fun!
What I love about Manchester:
It's a vibrant city where there is always something to see and celebrate (Christmas markets, Festivals, street performances). People are friendly and eager to help. September is the busiest month as many students from different corners of the world come to study here. It's a student-friendly city! So don't miss out the opportunity to go out and practice your English!
Comments
comments