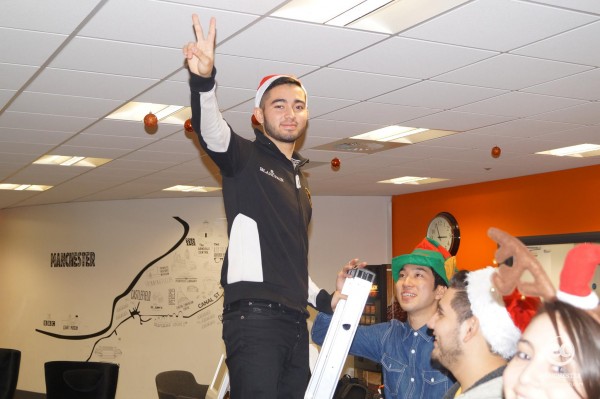 Francisco is one of the students who has been with us for a very long time. Not only is he one of the students at EC Manchester School of English, he has also been one of the ambassadors. It was great having you in the school, Francisco. May we meet again one day.
I would like to start saying that I've found in Manchester my second home and perhaps one day it will be my first home. I leave with with all the good experiences and wisdom that I've gather over here. Manchester is a lovely place where the weather can be crazy as the people living in here and in those I include myself. From scratch I thought that I wouldn't like the city or the things here but it was just a matter of time that I realized that I was in the best city in the UK, this city has taken a part of my heart as well as the people that I've met here, all of those people will always remain as my mates. I can certainly say that this experience is the bee's knees and all the great things you can learn here you will never learn it anywhere else. Either the people, the school or the city are things I will never forget, I am totally glad to have come here and it has been the best decision I have ever taken, without a doubt about it.
Manchester does have grey skies, cloudy days and very chilly nights, but this becomes just something irrelevant when you are living the way you live in here and that not even a bad weather will dampens your mood because you're already accustomed to it and you just want to have fun or paint the town red. And that's what we do, because "this is Manchester and we do things differently here"
I will be always grateful with EC Manchester because of every single aspect and every single time experience that I could lived with them, when I speak about EC Manchester is speaking about home, bonds, friendships that will last forever, I speak about all the good things that this school involves. How will I forget all my teachers, since the day I got here until the day that I said goodbye to all of you. You're the reason why I am capable to write all of this with a proper English, because I came to the best place in the world to learn it, I chose you and I chose England because I knew it would be my cup of tea. How to forget the incredible matches that we played with the lads, it was always tough, always very vivid and impossible also to forget the atmosphere that we had when we used to go to the stadium together, even though our team wins or loses, we felt happy because the matter was just to be together and enjoy all the beautiful things that football in this city has.
Well I think if I keep writing about all the amazing things that I want to talk about I will finish by writing a new novel, and no one will read it.
I have all the words in the world to tell my anecdotes about Manchester and EC and I will never get tired, but I have no words to express the feelings that I have for this city, for my friends, and for the school. I would like to say that this experience has made me a better person and it has helped me to find things inside me that I didn't even know.
Cheers mates! I will never forget any of you.
Francisco – Student Ambassador
Comments
comments