Roberto came from Italy and he spent four months studying at General English Course at EC Manchester. He has decided to share his EC experience.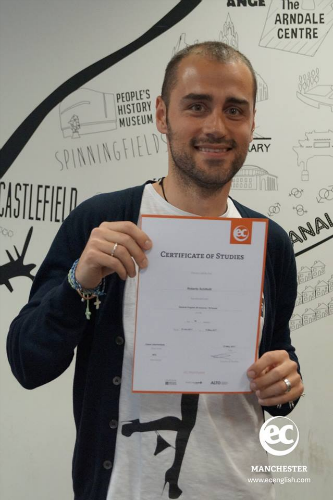 I think that the great word to describe this is "Amazing".
EC Manchester is a big family where you can find directors, teachers and students.
When I arrived in Manchester I was alone because I didn't know nobody and I didn't know the city and the language. So, the first day was ugly but after I started to love that life.
In general I don't like to study and to go to the school, but in those 4 months that I spent in Manchester I loved to go every day to school.
Every day I had a different activity to do like football, Netflix's day, welcome drink etc.
It was a perfect experience because I met people from different countries and cultures.
You could open your mind and you can learn to know people come from of opposing continents and to share the values in common.
I shared a lot of things with Korean, Brazil, Colombian, Chile, Arabic's friends.
I spent 4 months in UK and in my opinion I improved my English through the teachings of professors and to speak every time with my friends. You must speak all time in English. It was the secret.
In the end, EC Manchester is a fantastic school (new and clean) where you can learn the language through the preparation of good teachers.
If you want to do a fantastic experience in UK, you must choose EC Manchester  !!!
We thank Roberto for his testimonial and we hope you enjoyed your EC experience.
would you like to have an experience similar to Roberto's experience, then what you waiting for.. Come & Join us
Comments
comments