For June, the Student Services Team from EC Manchester has done everything possible to offer amazing activity program for students in order to make the most of their experience with us. Firstly, we decided to create a new event called "Around the world Food Night", with the aim of offering twice a month during the evening a restaurant to eat specialties from each country. So, to start this new event we chose to eat in a famous French restaurant to enable students to discover French culinary specialties. In two weeks, we will stop in a Mexican restaurant to eat the best burritos of Manchester. So, by the end of the year we would like to go around the world of the specialties of Manchester.
In addition, on this activity program we offer students a visit to the Museum of Science and Industry, an outing at the Manchester Skating Rink and a beer pong in one of the best bars in the city. Also, with the beautiful weather coming, we had the very good idea of organizing a giant BBQ at Heaton Park with all of our students, we look forward to that moment.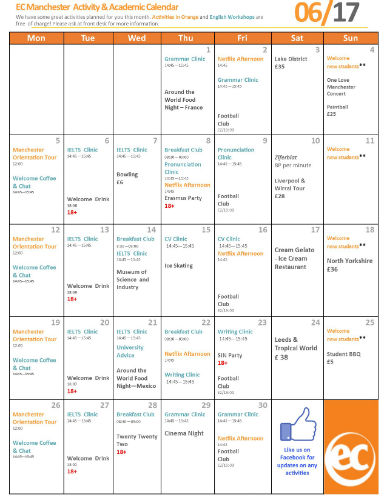 This month we offer fantastic trips with our partner Smile Adventure in Lake District, Liverpool, North Yorkshire and Leeds. These weekend trips are an opportunity for students to discover new horizons and make new acquaintances.
I will let you discover the activity program offered to students this month at EC Manchester Language School.
Comments
comments