We would like introduce Pietro who came from Brazil and stayed one month with EC Manchester Language School. He would like to share his EC experience with a short testimonial: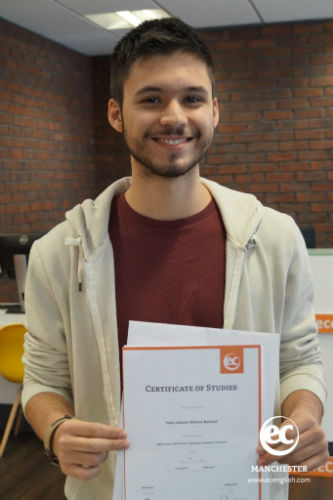 "Student life in Manchester is, in general, quite comfortable. The facilities at the school are great, there's no shortage of places to go shopping, and the nightlife is wild. Excluding the occasional unmotivated study partner, the class atmosphere is also great, with teachers that try their best to keep the classes entertaining and fun, which reflects on the students and their behavior. Said teachers are qualified and very effective, not to mention cheerful and fun, but most importantly, they are helpful: There was not a single moment in which I didn't feel like my opinions mattered, or a situation where I felt like I wasn't being listened to. Overall I'd definitely recommend the school to others looking for quality english teaching, as EC's facilities are great, their teachers are dedicated, and the activities they do on weekends through Smile Adventures tours are also really fun. I made some good progress while there, from Advanced (C1) to Proficiency (C2), but I'm on the lower end – I've seen people walk in without knowing a single word of english, and in no time they were perfectly capable of holding conversations. It's all possible if you put yourself to it."
Want to have the same experience as Pietro? all you have to do is join us at EC Manchester or any of our language schools.
we promise that you will have an experience that you will never forget.
#ecexperience @ #ecmanchester
Comments
comments