I'm a French student and as part of my studies in a business school (IAE), I did a 3-month internship at EC Manchester in the "Student Services". My stay is coming to an end, I have decided to talk about my EC Experience in EC Manchester Language School and in this city.
First of all, my work at EC Manchester consists of two main tasks, management and communication tasks in order to make sure to make students stay as pleasant as possible. I'm Student in Bachelor in Marketing /Sales in my school in France and during this internship, I decided to make some changes in the school to improve as best as possible the experience of the students.
For my first overseas experience, I decided to leave in England is especially in Manchester as I had a project to improve my English in a big city without French. Manchester being the cultural capital of England I made great discoveries and learned a new culture that I thought I knew but I do not know. In my free time, I visited Manchester, meet some great people that I will remember all my life.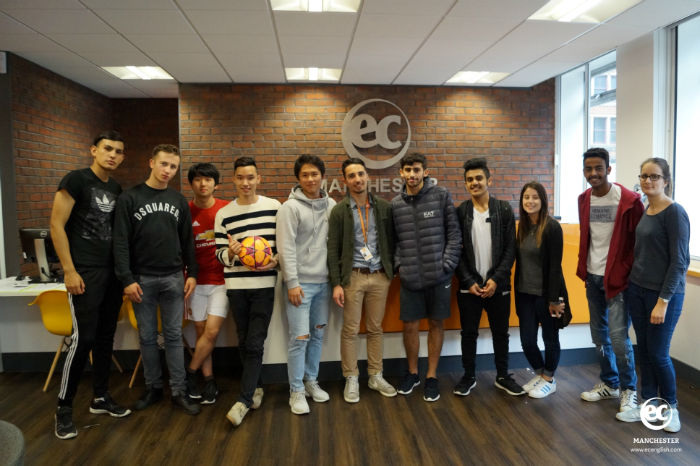 During my EC Experience, I have made incredible encounters especially with Mike the school Centre director and Sarah the Director of Studies who are both adorable and pedagogical people. Then at the Student Service I met Liz an exceptional person and Hani my blog coach.This internship allowed me to meet people I would never have met without EC Manchester including Colombians, Brazilian, Saudi and Italian. All these meetings made me grow because I became acquainted with people of different nationalities and cultures which allowed me to learn the local customs in some countries.During these 3 months in this school, I gained know-how and a knowledge to be that I could not have acquired elsewhere. So, I would like to thank EC Manchester and all of his team for telling me and being patient with me. (Sometimes the language barrier made communication difficult at first) and gives something that can be found only at This place, "A Family". Thanks to the students, the staff and the management for giving me the chance to realize this incredible internship.
I love you from the bottom of my heart and I will never forget you, these 3 months with you was pure happiness and you will remain forever in my memory. Now it's time to say "Good-bye", however, one thing is for sure, our paths will cross again one day.
Comments
comments