EC Melbourne students regularly get the opportunity to practice their English-speaking skills outside of the classroom.
EC students in Melbourne enjoy many excursions to free events in and outside of the city with their teachers. Students get to do many activities in pairs or in groups with their classmates and teachers.
Recently EC Elementary level students enjoyed a visit to the historic South Melbourne Market to practice their English-speaking. South Melbourne Market is famous for its cheap fresh food, clothing and many other products.
South Melbourne Market is located fifteen minutes away from the EC Melbourne campus by tram ride. Melbourne has a large and reliable tram network that many students use to get to school.
The best thing is that tram travel is free within the city centre. They arrive roughly every five minutes, so it is hard to be late in the city of Melbourne.
In class
Before going to the market, students had lots of practice in class with their teacher on how to politely ask questions about- how much, how many and how long. This language is useful for buying food, clothing and other items at a market or a shop. Students had a list of questions that they had to ask market vendors and shop keepers at the market.
At the market

Students worked in pairs and politely asked market vendors and shopkeepers if they could ask questions and take photos of the things they sell and of themselves asking questions of the vendors.
Students also had to take photos of themselves with certain fruit, vegetables and products at the market. South Melbourne Market has some unusual hidden treasures that students had to also find.
At the end of the excursion we relaxed with some fresh fruit juice from the market.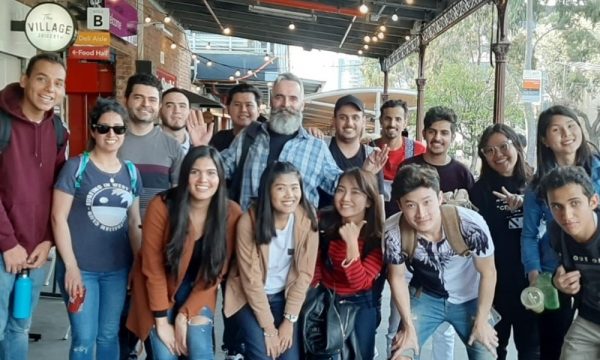 Goodbye from all of us in Melbourne!
Learn more about EC's state of the art English school in Melbourne Australia and start your adventure here.