On Thursday 26th of September EC, Victoria and New South Wales were abuzz with pre – AFL Grand Final day excitement.
Australian Football League, AFL or simply "Footy" is a highly popular Australian sport and followers of this high speed, nail biting ball game take their sport very seriously. So seriously in fact that on every Friday before the annual grand final Victorians have a public holiday to prepare themselves for the big event.
We love football
In order to share the love of footy with students and staff, the Melbourne HR team organized a wonderful lunch and team building AFL day to get teachers into the right spirit and state of mind to share this incredible cultural event with our cohort of multinational students.
Footy teams are formed from different suburban locations around Australia and have very interesting nicknames. For example the Collingwood club is known as the Magpies because they have black and white uniforms and have the emblem of the black and white Magpie, a bird native to Australia and South New Guinea.

Melbourne staff celebrating Australian footy
Giants, Tigers and Pies
As Australian English loves to use descriptive short forms the Magpies are affectionately known as "the Pies" by their supporters, so should you hear someone yell out, "Go the Pies!" it has nothing to do with eating one of Australia's delicious national foods, but rather a Collingwood supporter encouraging their team to kick the ball between the big sticks or win the big dance!
As luck would have it, "the Pies" didn't make it to the final but were beaten by GWS (Greater Western Sydney Giants) who ended up playing against Melbourne finalist team, Richmond (The Tigers).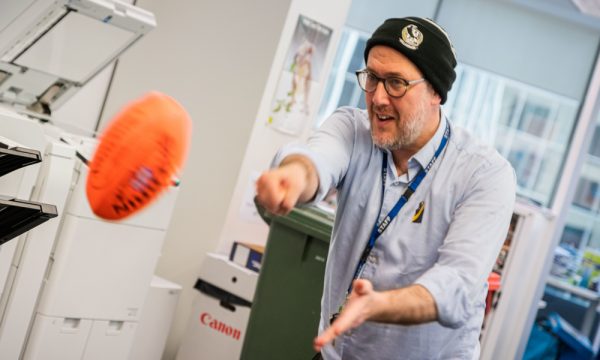 Melbourne Campus Director showing staff how to correctly 'handball' a Sherrin football
Staff where very excited on Thursday as they tried to win a box of chocolates by hand-balling a Sherrin (oval shaped ball) through a target. The person with the greatest number of points walked away with the prize, there was a lot of cheering as the final two vied against each other for ultimate victory. More importantly this game was shared with students in class and at our local park Flagstaff Gardens a few minutes' walk from campus. Students then had the opportunity to compete against each other for AFL glory and an assortment of small prizes.
At the end of the day students got the chance to learn about AFL and had a better sense of understanding what the public holiday on Friday was all about. Australia takes its sport very seriously and learning about the various sports is a great way to understand the local culture. Students now have a clear understanding of the history and nature of this sport and one or two have even decided to try their hand at footy!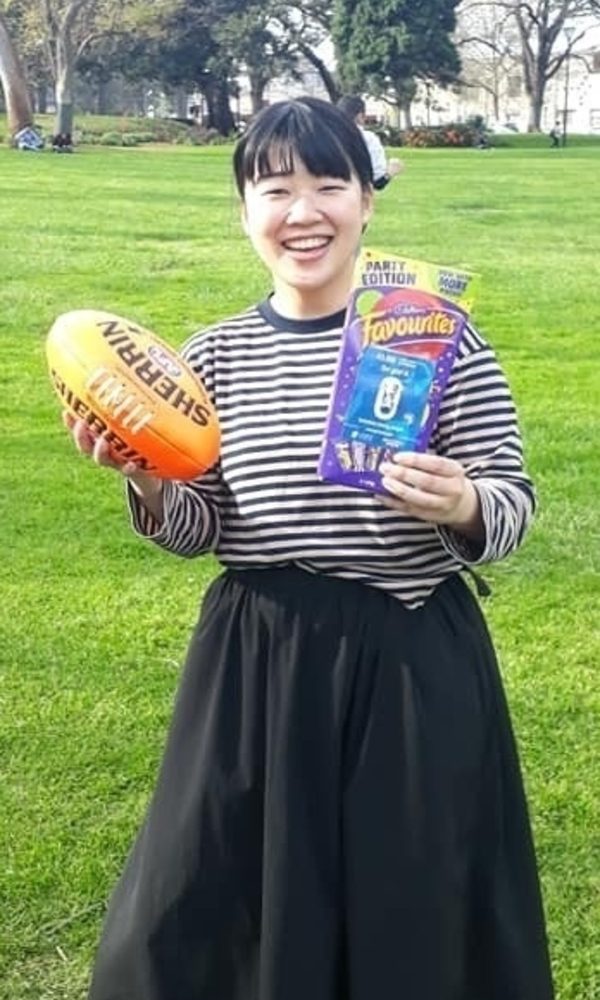 Student winner of 'footy' competition on the day
Study English at EC English Melbourne Australia.