Not only do Melburnians look forward to the tradition of Christmas, but they also look forward to the tradition of the Myer Christmas windows. The windows are a free Christmas event in Melbourne. They're a Melbourne tradition that is as much a part of Melbourne as trams and football.
The Myer Christmas windows have been a tradition in Melbourne for sixty-four years. They attract young and old and people will queue up to see them. Many people have been coming to see them all of their lives.
The first Myer Christmas windows were installed in 1956, the very same year that Melbourne hosted the Olympics and that Australia started its first T.V. telecasts. It was a big year for Melbourne and Australia.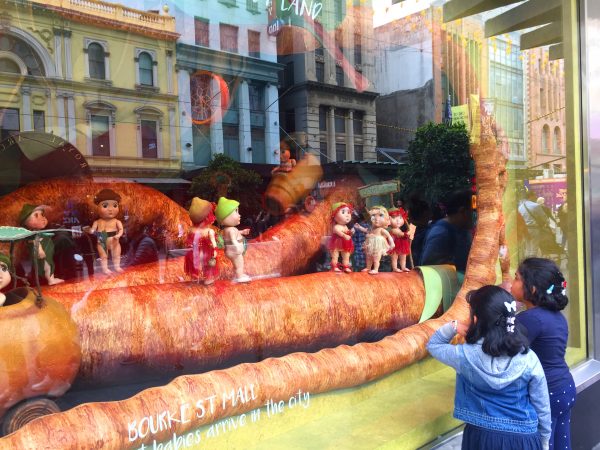 Not just what's on sale!
In 1956 the head of visual merchandising at Myer convinced management to allow him to create grand Christmas window displays. This was something new, not just Christmas merchandise artfully displayed. These windows would have little if any merchandise in them and would be based on a theme. The theme for 1956 was Santa and the Olympics. The first windows were a huge success and the budget was greatly increased for the following year. Each year the windows became more elaborate and the crowds trying to catch a glimpse of the magical windows grew and grew. The themes for the windows have always been topical. Australian writers and illustrators have had their work celebrated in the Myer Christmas windows. There have been international themes as well.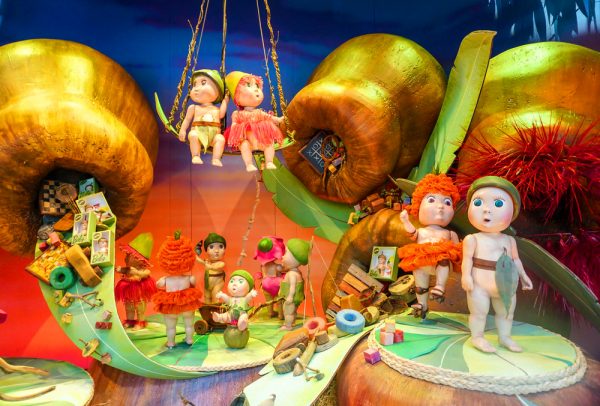 Bringing stories to life
The windows often depict fairy tales or popular children's stories in three dimensions. Many of the windows have animated figures and lighting that are computer controlled. The windows take eleven months to design, make and install, so the window displays are highly detailed and very realistic.
The windows are comparable to any other displays of this type in the world, if not better. The theme for Christmas 2019 is The Gumnut Babies by Australian author and illustrator May Gibbs.
Snugglepot and Cuddlepie are Australia's most loved bush fairies and have captured the imagination of Australian children since 1918.
The Myer windows in Bourke Street can be viewed between 7am and 11pm daily until 05/01/2020.
EC English Language School in Melbourne Australia celebrates Christmas.