It's hard to believe that we have already been open for one month! We celebrated our one month anniversary on February 3rd and we are continuing to welcome more and more students into our classes. These students want to have the whole Miami experience, so we have also been planning activities for them, especially sports-related ones. On South Beach, it is always important to maintain a beach body and our athletic events help students to do this!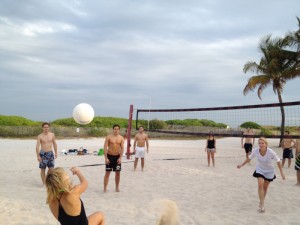 Back in January a few of the students went with Reese to play beach volleyball. The games started out friendly and there was a lot of cooperation, but as the afternoon continued, it steadily got more competitive. Everyone left the event covered in sand, but smiling! Last week, some students tried out bowling with Elisa at the nearby Lucky Strike alley. They bowled the night away and tried to get as many strikes as possible. Some students were definitely better than others, but everyone had fun!
Many students are also looking forward to our upcoming sports events. We have some special EC tickets to an upcoming Miami HEAT basketball game and we also are hoping to run more volleyball, yoga, or other sports events in the future. If you have any suggestions, leave us a comment and let you know what you would athletic activities you would like to do! Also, check out more photos of our sports events on our Facebook page!
Comments
comments