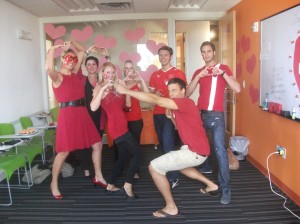 EC Miami decided to do something a little different for our first Valentine's Day. In addition to the regular pink, red, hearts, and chocolate, we decided to have an International Food Festival with a "love" theme because we LOVE international food and our international students! The event was a giant success and we are so proud of all of our students for participating and creating cute decorations, making (or sometimes buying) yummy food, and staging unexpected dance numbers.
Each room had special themes ranging from a Valentine's night club complete with bouncers and strobe lights to a French-themed room filled with crepes and chocolate-covered fruit. Students and staff were able to sample tiramisu from Italy, potato delights from Switzerland, bacon-wrapped dates from Poland, blinis from Russia, lots of chocolate and many more international delights.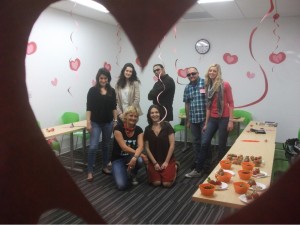 The judges of our food festival included a few of the employees at the neighboring businesses in our building and we are so thankful to them for their help. In the end, the winners were the advanced class who wore matching red clothing and Swiss flags and performed a pre-choreographed dance to "Love is All Around".
We also encouraged students to wear red and pink colors in order to possibly win a raffle prize. Galina from Russia won our raffle and received a $40 gift card to Shake Shack.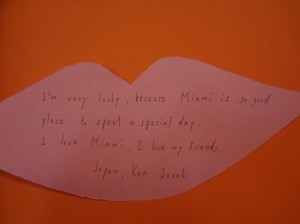 We want to say a BIG thank you to all of our students and teachers who participated and shared their food with us. Don't forget to check out more of the photos and the dance video on Facebook and add your photos and videos of the event too! It was truly an amazing event and almost everyone left with full stomachs and smiles!
Comments
comments