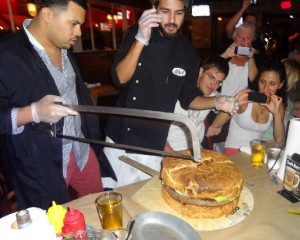 We did it! We, 12 amazing EC Miami students, conquered the beastly Motherburger last night. Many of the students who attended the event yesterday are probably still full today and that fullness might continue throughout the long President's Day weekend.
The evening at Burgers and Beer started out with standard pitchers of beer and an appetizer that was new to many of our students- fried pickles. The new culinary treat was a welcome surprise and the table quickly devoured the greasy goodness. Many of the students were also delighted to learn that at this particular bar, you are allowed to write on the walls and tables. They started writing, "XYZ was here," and other fun sayings on the walls, so that future visitors would know that EC Miami made its mark on the restaurant. Just as our stomachs started aching with hunger (because many of us had eaten very little in preparation for the main event), the Motherburger arrived…
Flashing lights and banging pots accompanied the Motherburger parade as the EC group caught the attention of the entire restaurant and the Motherburger was carried to our table. We spent a lot of time taking photos of the massive meat patty and then the restaurant staff started to cut the burger with a saw, not a knife, a saw for cutting wood. See our video of the burger delivery and more photos of the event on Facebook.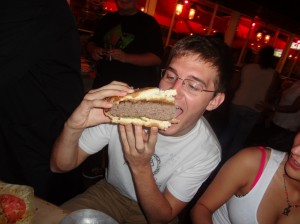 As the burger was sawed into 12 pieces, it was hard to believe the enormous size of each person's individual burger slice. Our table got pretty silent as we started attacking our pieces. All in all, it was a great night and we were very proud that we managed to finish almost every bite.
Some of our students claimed that they might want to attempt the real Motherburger challenge. This food eating test involves eating the entire burger in 2 hours alone. I have a feeling that the students who claimed they could do it alone were pulling my leg, but if anyone attempts it we will be sure to let all of our loyal blog readers know!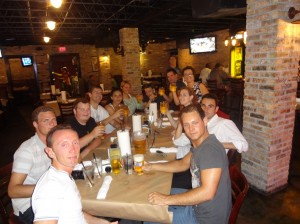 Comments
comments