Last night, some of our students left "the beach" with Nicoletta and Reese and headed to downtown Miami to watch some NBA basketball. The Miami Heat played the Sacramento Kings at the American Airlines arena and won 120-108. Congratulations Miami!
While the score might make you think that the Miami HEAT were the sure winners, this was definitely not true for the whole game. During most of the game the score went back and forth until the last quarter when the HEAT took over and started getting more and more points. Our students were able to see multiple dunks* by HEAT players and many three-point shots too! Most important of all, they were able to see one of the most famous NBA players – Lebron James.
Before the game, some students purchased HEAT gear, such as team shirts and giant foam fingers. Many students said that they enjoyed watching the basketball, but they also liked being part of the atmosphere in the arena. Watching  an NBA game at the American Airlines arena can be overwhelming, but with the HEAT dancers, cheerleaders, a special DJ, competitions, and, even flames and fire, it was truly a unique experience. Students became part of the cheering section and shouted "Let's go HEAT!" and they even got to do the wave.**
For those students who didn't get tickets to last night's game, don't worry! EC Miami has tickets to the March 7th game versus the Atlanta Hawks. Tickets for this game go on sale at the EC Miami front desk on March 2nd. Get here early to buy your tickets and make sure that you have cash. We only have a limited number of seats and the tickets sold out fast last time!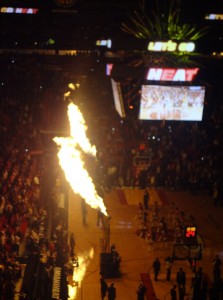 To learn more about the Miami HEAT players and upcoming games, click here. To see more pictures, go to our Facebook page. If you were one of the lucky students who went to the game last night, don't forget to post your pictures of the game and tag us!
*dunk – when a basketball player puts the ball through the hoop and holds on to the side of the hoop
**the wave – when fans at a sports match stand up one at a time and raising their arms creating a circle around the arena
Comments
comments