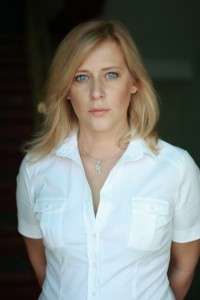 In a class assignment, Tatiana, one of our students, was asked to write about an incredible experience she has had in her life. Here is her story in her own words about her encounter with an amazing, underwater creature!
"I would like to tell you about incredible experience that I had during one of my ocean diving safari trips. We had an common dive next to one of the  thousands paradise islands in Maldives. There were nothing special particularly  about this dive, and we were  already going come up when suddenly I noticed an eye staring at me intently among the corals. I  stoped flooting  and observed it patiently for a while. I guessed that it was octopai's eye and realized that he also peering at me. Meanwhile, my fellow divers swam away from me.
Usually octopai are interested in people but rarely  come out of the burrows. However, this was a special occurance. I was very surprised when the octopus slowly began to venture out  from the hole. In a few minutes  he was completely in my presence.  An amazing and spectacular show  began. Octopus moved on from one coral block to another.  It seemed to me that I could hear special music which was suitable to the creature's  movement. The rhythm reminded me of Maldivian song that is very similar to Indian.
The octopai's flexible body transformed constantly. It  was smoothy then suddenly it became all with papuliferous like a verucca.
He opalized  slightly  from one color to another. He  was just ashen in color like  burned coal and immediately became raspberry-red and purple like freshly harved beet-root.
It was amazing to observe this performance.
Suddenly, I felt so sorry for  this creature for my bad behavior in the past. I remembered an event that  happened  ten years ago. It was also in the Maldives during a diving trip. I was young and silly and asked our guides to intertain  me. So, they invited me to go octopai hunting. Local Maldivians are known about a special method for hunting down and kill octopai. So, it was successful and at the time I was pretty satisfied . We hunted enough octopus for  dinner. However, it was not very tasty. It reminded of curry-tossed rubber. It was impossible to chew. So, the meal was thrown away. The lives of five octopai were wasted for nothing, only to amuse the spoiled young girl. My heart was squeezed by shame.
The show was going on while I thought of my shame. Finally, "the dancer" sat above a coral block   and I wondered if he wanted to continue this fresh encounter. I took off my glove and reached out to the octopus. He looked a little bit worried, pricking up his "ears", but eventually stretched out one of his tentacles. And just briethly we touched, we both jerked back immediately. I guess we were scared. I don't really know what the octopai's impression of touching my hand was, but for me it was like touching  cold slime rubber.
It was an life-changing  experience and  I have since then never eaten the Octopai again.
Of course as per Merphy's law, I did not have my camera. And therefore I can only describe  this incredible experience."
Comments
comments