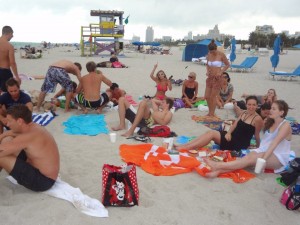 EC Miami students are so lucky! We are just a few blocks away from the beach and many of our students are there every day after class. Last weekend, to celebrate Nicoletta's last weekend in Miami before she returns to Cape Town this week, we decided to have an EC Miami beach day with staff, teachers, and students. We met at a part of the beach near the school during the afternoon on Saturday and created an EC mini-village of beach towels.
Everyone had a great time at the beach doing different activities. Some students preferred to soak up some sun rays, listen to music, and chill on the sand, while others headed to the water to play football and tackle each other in the waves. Many people brought snacks and drinks to try and share with the group and we had fun sampling other people's goodies.
Our group became a little nervous when the clouds started coming and there were a few raindrops, but we decided to wait for the bad weather to pass. When the sun disappeared, we found other ways to entertain ourselves.  The highlight of the beach day was definitely when members from our CPE class decided to reunite to do their Valentine's Day dance again in a "flash mob" on the beach. The other people on the beach around us were very confused, but they seemed to enjoy it. Most importantly, the dance brought the sun back out!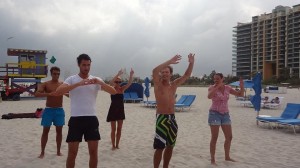 As the day came to a close some students were sad because they had to say goodbye to their good friend Santina who was leaving that evening to return to Switzerland. Santina is one of our original EC Miami students from the day that we opened and she had many good EC friends. It is going to be sad to say goodbye to Nicoletta too this Friday and I'm sure EC Miami will miss both ladies.
Overall, the beach day was a great success and fun was had by all. I'm sure we will do other beach days in the future, so keep watching our activities calendar!
Comments
comments