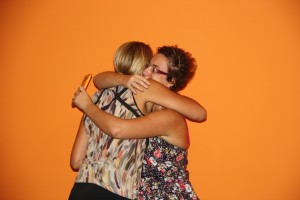 Last Friday we said goodbye to one of the very important, amazing members of our original EC Miami staff – Nicoletta. We always knew that Nicoletta's temporary stay in Miami would end and she would need to return to EC Cape Town, but everyone was very sad to see her go. After our regular Friday certificate ceremony, we held a special presentation for Nicoletta to thank her for all of her hard work here.
Elisa presented Nicoletta with an EC Miami certificate, similar to the ones given to students on their last day. Amanda thanked Nicoletta for everything she has done academically for the center and presented her with a gift from the EC Miami staff. The present was a ticket for a tour of New York City because Nicoletta was planning to go there last weekend before returning to South Africa. We also embarrassed Nicoletta with a slideshow of pictures of her fun and serious moments in Miami. Nicoletta said she was honored and she even started to cry a bit during the speech and slideshow.
Finally, Nicoletta said her goodbye  to the EC Miami staff and presented each of us with a chocolate bar based on our personalities. She also thanked everyone at EC Miami for an amazing time here and said she will never forget us. If you want to read more about Nicoletta's time in her own words, check out the EC Cape Town blog here. To see more pictures Nicoletta's goodbye ceremony, go to our Facebook page here and look for the graduation ceremonies photo album.
We already miss you Nicoletta. Thanks for all the great times and memories!
Comments
comments