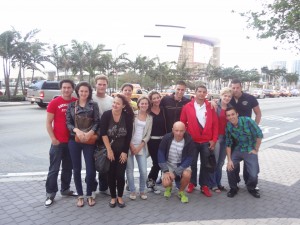 Our last EC Miami trip to a Miami HEAT game last month was a huge success and the students kept asking for more tickets, so last night a group of students went with Reese to the American Airlines Arena to watch the Miami HEAT play the Atlanta Hawks. Although many fans thought the game would be an easy game for Miami to win, the score was actually very close (89-86) and the HEAT only won by 3 points!
The students were able to have many firsts during the adventure at last night's game. We took the bus to the game together and this was some students' first time on Miami public transportation. For other students, it was their first time leaving "the Beach" and going to downtown Miami. Students also got to see many new firsts such as 50-floor apartment buildings downtown and the enormous arena, which can hold a little less than 20,000 people.
In addition to getting to see a close game, this group of students was also able to learn about the history of basketball in Florida. The game was a 70s theme night to honor the original Miami basketball team – the Floridians. During the game, there were silly videos of the players wearing afros and dancing to disco music. There were also challenges for fans to guess information about songs from the 70s. The HEAT players even wore special Floridians jerseys with orange and pink stripes.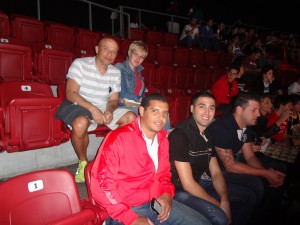 All in all, it was yet another successful HEAT game and EC Miami students will probably be cheering for Miami in the upcoming playoffs!
Comments
comments