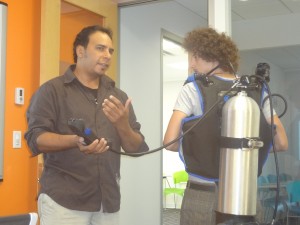 With all of this rainy weather in Miami lately it seems wet enough outside to swim on the flooding Miami Beach streets! Instead of heading to the beach today, many students took the opportunity to come learn about water sports in Florida, especially about scuba diving. Eric, our Upper Intermediate teacher, gave an interesting lecture about scuba diving and the students learned many funny and serious facts about this underwater sport.
Eric told us about the best dive locations and about the beautiful and sometimes scary things that people can see when they dive, such as sharks! The highlight of the lecture was definitely when Eric volunteered one of the students, Omar, to put on the air tank. Amazingly, the air tank weighs almost 80 pounds or 36 kilograms and Omar definitely struggled to hold it on his back. Eric tried to convince Omar to put on the wetsuit too but the tank was more than enough!
Although Eric tried to convince the crowd that scuba diving is safe, some people continued to be unsure. On the other hand, some students seemed eager to take a scuba diving course and start exploring the underwater playground while they are in South Florida.
Check the blog next week to read more about Eric's lecture from a student's point of view. Remember that whenever there is a lecture, there is also a competition to write about the fascinating points you learned at the lecture. The winning article will be published here and the winner will get a sweet treat!
Comments
comments