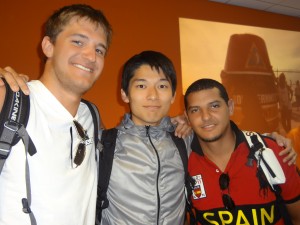 Many students at EC Miami often say that it is difficult to avoid speaking their own languages outside of class because they have the same native language as some of their friends. After hearing this from many students we have decided to give you a list of ways to ensure that you speak English as much as possible while you are here.
1)       Find friends who are not from the same country as you (or the same language background as you). This is especially important because you want to be sure that you are not tempted to speak your native language in class or in the hallways at EC Miami. As everyone knows, EC has an English-only policy and the easiest way to obey the policy is by finding friends from other countries. Additionally, this helps you to meet people from all over the world and continue speaking in English with them by email or Facebook after you both leave Miami.
2)      Attend as many EC activities as possible. All of the EC Miami events on our calendar are in English and there are many free events. If you want to practice general conversation, it is a great idea to come to Chill and Chat. During this event, students talk with an EC staff member in a relaxed setting about a fun topic and the goal is to speak as much as possible. Our events on the Fun Bus are also English only and you have the opportunity to meet students from other schools. Even coming to a beach soccer or volleyball event gives you the opportunity to continue speaking English while having fun on the beach.
3)      If you have many friends who speak the same language as you, give yourselves a challenge to speak English for a certain amount of time. It might be difficult (and a little strange) to speak English all day long when you know your friends speak your native language. Instead, you could make a goal to speak at least one hour of English together per day or maybe more as you start to feel more comfortable using your second language together.
4)      Go to international nights at clubs and bars to meet other people who are learning English like you. These people are from all over the world and it is definitely possible to find someone there who speaks a different language than you. It is also a good challenge to understand as many different accents as possible while in this setting. Although you may think it is important to speak only to native English speakers, it is almost better to practice with people from around the world. You need to get used to speaking and understanding English with other non-native speakers because in business and in your futures it is a very common situation to have a room of non-native speakers all speaking in English.
5)      Try to meet native speakers. Many people say that this is difficult to meet American friends, but it's not always as hard as you think. You don't need to become best friends with someone in order to make small talk. Try to talk to people in elevators, in line at coffee shops, on the beach, at the store, or any other place around town. This gives you an opportunity to practice quick conversations that are not scary because it's just small talk!
Next time you think you don't speak enough English, take a look at this list and try one of these ways to speak more while you are here!
Comments
comments