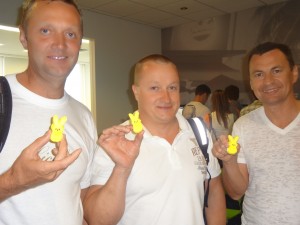 Well, not everyone loves Peeps, but they are a spring-time, Easter tradition. During our graduation, students were encouraged to try the classic, American, fluorescent, marshmallow treats. Most students agreed that they were cute, but some people were put off by the bright yellow color and weren't sure whether they wanted to eat them.
Other students, such as Iris from Switzerland, ate more than one Peep because she said she loves everything sweet and nothing is too sweet for her. On the other hand, Sergey from Russia thought that they were too sugary and didn't even finish one Peep. Whether they loved them or hated them, the students appreciated the Easter fun.
During class, students also received Easter eggs, which were filled with various jelly bean treats. Amanda i.e. the Easter Bunny's basket full of treats was a welcome sight for students in class who were ready for the weekend and needed a sugar boost to make it through Friday. We hope everyone enjoyed their yummy candies and we hope you have a happy and safe Easter weekend.
Comments
comments