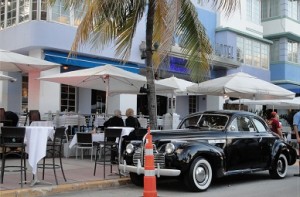 In the FCE class the students, including Sandro our student ambassador who we just learned about in a previous blog post, are learning about writing reviews of movies, books, and restaurants. In the interest of giving suggestions to students for new food places to try in the area, the EC Miami blog will be featuring their restaurant reviews. The first review, written by Sandro, tells us about Quinn's, a high-priced restaurant which specializes in meat and seafood.
Quinn's is located on the very famous Ocean Drive which makes it quite expensive. Overall I can say that it was really delicious and the meat was exceptional.
 I ordered a steak au poivre with spicy rustic roasted potatoes. The pepper crust was especially delicious and the meat was delicate. Unfortunately I'm not really an expert on wines. However one of my friends told me that the price-quality ratio of our wine was good.
The waiters at Quinn's are a little bit snobby. They were first very confused to see young students in their restaurant. They first asked us if we had already seen the prices to make sure that we knew the prices.  After that our main waiter was friendly. We just had to interrupt him while he was reading all the menu down and we told him that we just needed a minute before we ordered something. 
I recommend Quinn's to everyone who would like to spend a nice evening in a relaxed atmosphere and enjoy a delicious, tender steak. Don't worry about the waiters. They're snobby but overall friendly. Please don't forget to bring enough money. The meals with meat are between $40 and $50.
Quinn's is not a restaurant for every day but a good choice for a special evening.
Comments
comments