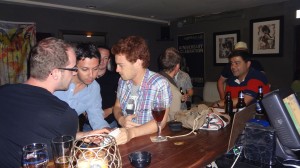 Some EC Miami students spent last night at Abraxas Lounge with Michelle trying to see how many trivia facts they knew.  Abraxas Lounge, a cool bar near 4th street on Miami Beach, has trivia nights every Tuesday and EC had a few teams entered in the competition yesterday. Although the questions were difficult, one of our teams got fourth place!
Questions were from many different categories and some students said they were too difficult. A few people said that the questions would have been easier for Americans. For example, one question about the NBA asked the bar participants which conferences have not yet determined which teams will be going to the basketball playoffs. It was hard enough for students to think of all of the basketball conferences!
Other questions were about different topics, but it was a great challenge and a way to practice listening skills and team work while having a few beers too. The fourth place team was happy to be the winner of the EC groups, but some students claimed that that team had an advantage because one of its members was EC Miami teacher, Michelle. We don't know if it's true, but Michelle is originally from England, so I doubt she knew the NBA answer either!
Today, we are looking forward to watching an NBA game ourselves as EC Miami attends the Miami Heat vs. Toronto game this evening. The Miami Heat team is already in the playoffs, but it will still be an exciting game. Look for pictures of the action on our Facebook page tomorrow!
Comments
comments