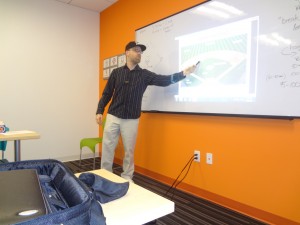 As part of our monthly lecture series, Mark spent this afternoon teaching some of our students about the basics of baseball. For many students who study in the U.S., this sport is the most foreign and sometimes most confusing to understand. Mark tried to make it easier for EC Miami students to appreciate the very American sport.
During this lecture, he showed the group a baseball and talked about the speed of the pitches. He also went over the positions and the ways to score points through homers (i.e. home runs). The concept of strikes was easy for most of the students to understand, but balls required a longer explanation.
Mark also educated the students about some of the most famous players in baseball history, such as Jackie Robinson and Babe Ruth. He talked about the best teams in MLB, but it became a bit of a contest. Mark loves the Miami Marlins, but Eric loves the New York Yankees and a heated debate continued for a few minutes.
All of the students left the lecture with a little more information about the sport. We don't know if they are ready to pick up a bat and glove and start playing, yet but they might be able to watch a Marlins game on television. If we are lucky we might even try to get some tickets to the see the Marlins in their new stadium soon, so keep watching the blog, Facebook, and the activities calendar!
Comments
comments