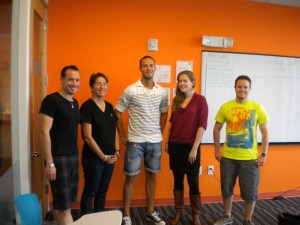 At EC Miami we like to recognize and congratulate our outstanding teachers. Every month, from now on, we will be honoring one teacher at the school for being great. We will also be choosing a student of the month to be paired with their teacher. This week the teacher of the month is Reese Bottesini and the student of the month is her FCE student, Sandro Angeli from Schaffhausen, Switzerland. Congratulations!
We will spend this post finding out more about Reese. She is our FCE teacher in the mornings. Reese is a full-time teacher, so she also teaches electives in the afternoon, such as English for Work, Get Talking, and Media Studies. Sometimes she helps create our activities calendar, so if you have suggestions, please let her know! Keep reading for more information about Reese.
Teacher's Hometown
A little bit of many places.  The best answer is probably Baltimore, MD or Brussels, Belgium.
Teacher's Miami Recommendation
Miami Beach is a great place to live and study but there are many interesting parts of Miami "off the beach".  Try to explore Downtown, Midtown, and the Design District.  If you are in Miami on the second Saturday of the month, an especially fun event you could go to is the Wynwood Art Walk.  This artsy event allows Miami residents to explore galleries in the Design District for free.  There is also street art, walls with cool graffiti, and yummy food trucks.  In my opinion, this is one Miami experience that you shouldn't miss!
Teacher's English Tip
Ask as many questions as you possibly can.  Your teachers are available to help you understand, so use them!  Also, don't be afraid to make mistakes.  The only way to improve your speaking skills is to speak, so take as many risks as you can when communicating in English.  Take every opportunity possible to speak in English, even if you are with non-native English speakers.  You can always help each other!
Comments
comments