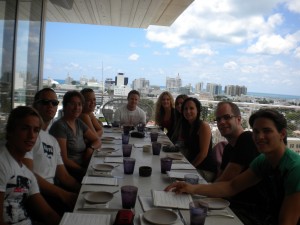 We were so happy that we finally were able to do a student lunch at Juvia restaurant. This rooftop restaurant, which opened in February is on the top floor of the EC Miami building and the views are spectacular. All of the students who went had a delicious lunch special that was served in a bento style box. For those of you who don't know, a bento box is a lunch plate with many small dishes in small compartments. The student diners were able to sample a main dish, side, and salad, as well as a drink and dessert for a special EC Miami price.
It was a fantastic experience for everyone involved for a few reasons. First, the deal was incredible because Juvia is a very nice restaurant and usually has pricy dishes for dinner, but the lunch box was very reasonable. Second, Kathy, the teacher who went with students, said that the food was delicious. She had a chicken and rice dish that came with vegetables and enjoyed every bite of it. Another great advantage of the restaurant was the amazing view and many students spent the meal taking lots of pictures. The table was outside and it was a clear day, so you could see the ocean and all of Miami Beach.
Overall, it was a fantastic lunch experience and I'm sure many of our students (and teachers) will be back to Juvia soon!
Comments
comments