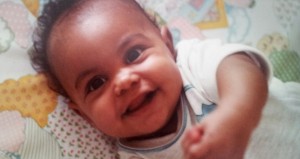 Everyone has that photo that they wish their parents never took of them as a child. Last week, we started a new Facebook game – Guess the Teacher. This game involves EC Miami posting a childhood picture of a teacher or staff member and students guessing who it might be.
The idea for this guessing game started in EC San Francisco and EC Miami decided that was a great opportunity to get students talking more on our Facebook page. It's also pretty funny for students to see embarrassing childhood pictures of their teachers.
The first picture we did was very difficult for students to figure out. Students suggested that the picture could be Mark, Reese, or Elisa. There was a bit of a debate and finally, after a lot of confusion, we revealed that it was indeed Elisa. The next baby picture is going up today on Facebook and it is also the picture attached to this blog post. Do you think you will know who it is? Start guessing now and don't forget to "like" us on Facebook. We only need two more likes to get to 200!
If you would like to participate in the baby picture contest by submitting a baby picture of yourself, please send it to reesebottesini@ecenglish.com. It would be great to get students involved too and it's always fun to laugh at how different or the same people look as adults!
Comments
comments