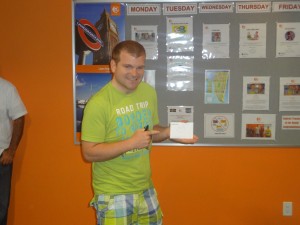 The answer to this question is of course, our French student Aurelien. Aurelien sadly left EC Miami today to return to France, but many students were surprised to learn about his luck. Why is Aurelien lucky? Keep reading to find out or watch the video on our Facebook page!
Aurelien won his trip to EC Miami because he submitted an award-winning photograph to his agency. He was able to study here for a few weeks and it was all paid for by the agency! After winning the contest, Aurelien got to Miami and was chosen as the weekly English ticket winner during his first week here! The prize for winning was a gift card to our favorite local burger restaurant, Shake Shack. He was surprised that he won the raffle, but he decided to continue testing his luck.
While in Miami, he decided to go to a casino to see if he was still lucky. Surprisingly, he was! He won around $100 gambling and he played the Lotto too!
After all of these things, we have decided that Aurelien was definitely one of our luckiest students at EC Miami. He is heading back to France now, but maybe his luck will continue there! We probably don't need to wish him "good luck" for the future. He already has all of the luck he needs!
Comments
comments