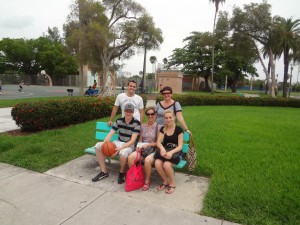 We know that many of your love to spend your days relaxing and sunbathing on Miami Beach, but there are many other options besides the beach. If you want a beach break, we suggest that you try out Flamingo Park. Flamingo Park is a medium-sized, public park located just a few blocks south of EC Miami. It is located between Alton Road and Meridian Avenue (east to west) and 11th St. to 15th St. (north to south).
Flamingo Park has many free or cheap facilities that are open to the public. For people who want to be very active, there is a track as well as fields for various sports, such as soccer. There are also basketball courts and tennis courts. In addition to these ball-related sports, there is also an aquatics center. An aquatics center is a fancy name for a pool. The pool is open most days of the week and includes an area to swim laps. The price to enter the pool is $10 for adults or it is free if you can prove that you are a Miami Beach resident. To do this you would probably need something showing your address in Miami.
Whether you want to go for a swim, play ball, go for a run, or simply sit under a tree to read, Flamingo Park is a great place to go. For more information go to the Flamingo Park website. So, next time you are walking down Alton Road, take a detour and check out this lovely green space!
Comments
comments