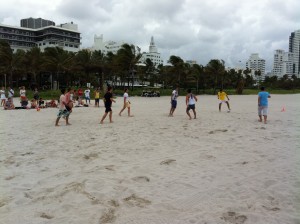 Last night on Miami Beach many students were cheering, "Go EC!" EC Miami students and staff played a 5-on-5 soccer match against another local language school. We had expected to have a friendly scrimmage but our opponents were very serious and we quickly became a team and played hard. In the end, we lost by 1 or 2 goals, but it was a fun match overall.
The game started out with some difficulties for EC Miami as we tried to work as a team and had to find someone to play goalie. Eventually, the team came together more with the help of our Student of the Month and team captain, Hugo from Brazil. As the only student from Brazil, the students voted for him to be our captain and lead EC Miami to victory, just like the professional teams in Brazil. Our other players were from Turkey, Switzerland, Germany, Mexico and, of course, the U.S.
Everyone had a great time because every person who wanted to play was able to including some of our staff and teachers. We were excited to see that some of our female students who originally wanted to be cheerleaders decided to join in the soccer game too! We may have been outnumbered, but we still worked hard and had fun!
Comments
comments