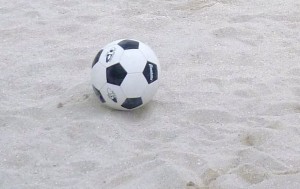 Last week during Chill & Chat we discussed the European Soccer Tournament, which is happening right now in the Ukraine and Poland. The "cup" began a few weeks ago, and now there are only four teams remaining in the semi-finals: Portugal, Italy, Spain, and Germany. The semi-finals will be this week on Wednesday and Thursday. The final match will be on Sunday and all games are played at 2:45 (Miami time).
We have students at EC Miami cheering for their countries, but last week at Chill & Chat we discussed vocabulary in English related to soccer (football). How many words do you know related to this popular sport? Take the quiz below to find out and then check your answers on Facebook.
What is the person called who decides about penalties and red and yellow cards?
What is the person called who does not score goals, but instead protects his/her team's goal?
What is it called when a person passes the ball to his/her teammate using their head instead of their feet?
What do a few players on the team make when they are trying to stop a free kick from going in the goal?
What is the place called where the players play the game?
This week in Chill & Chat, we will be talking about dance. What words do you know related to dance? What are tap, lifts, or dips? Come this week on Thursday at 2:45 to find out the answer to this question and to expand your vocabulary!
Comments
comments