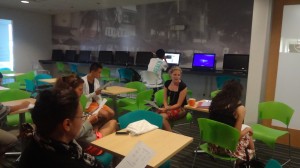 Chill & Chat has been getting more and more crowded the past few weeks, which is great because it gives us all the opportunity to speak more English! After a very passionate discussion about soccer/football last week, we decided to stay within the sports topic and talk about dance. While we spoke about dance, we still had the Italy vs. Germany soccer game in the background, so our Italian participant, Elena, was a little distracted.
During our dance chat, we found out some exciting things about our students. Another student named Elena, who is from Russia, surprised us by telling us that she used to be a ballet dancer and that she could walk on pointe. On pointe means to walk on your toes like a ballerina. We all clapped for her after she showed us her special skill in her sneakers. Galina, who is also from Russia, said that she used to dance traditional Russian folkdances every weekend in the summer in her hometown.
Taiwanese student, Sunny was too embarrassed to show us the traditional dance from his country. But, luckily, his classmate and Taiwanese classmate, Jimmy, showed us a quick example of this type of dance.
Our Turkish students Berkin and Ozcan showed us videos of Turkish traditional dances and talked about the importance of keeping your hands up in the air while you do the dance.
Finally, Italian/Swiss student Anna shocked everyone when she did the splits! What are the splits? It's just like gymnastics where your legs are out to both sides. She said she learned how to do it during yoga.
Many of the students expressed an interest in doing salsa dancing, so we might have to do that activity again soon! To see videos of previous EC Miami students doing salsa dance lessons at Yuca, click here.
Comments
comments