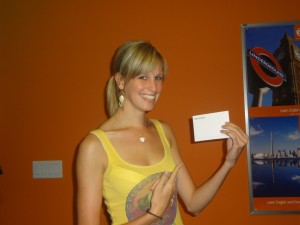 It's the weekend! In Miami Beach, there are plenty of places to go at night whether you are interested in clubs, bars or just relaxing at a restaurant near the beach. To get ready for this weekend, our student, Selina from Switzerland has some advice for you.  Selina was our English ticket winner this week, but she knows how to study English and have a good night our partying.  She wrote a description of how to spend a perfect night in Miami Beach for a class assignment and we wanted to share her ideas with all of you! Most of the ideas are for ladies, but the guys can use some of the advice too. Have fun!
"The most important things you need are good, friendly and funny friends.  First of all, you have to choose a beautiful dress; it should be short and sexy. After you have put on the dress, do your hair and glamorous make-up. Next step is meeting your buddies for drinking one or two cocktails, laughing and just having a good time together.
Then, decide with your mates which club in Miami Beach you would like to go to and, when you have chosen one, take some taxis and drive to the disco.  When you are in front of the club go in and head for the bar.  Next order drinks for you and your loved ones and then drink to your great time.   Afterwards go dancing or stay at the bar to talk.
The most important of this process is that you have a blast all night long!"
Comments
comments