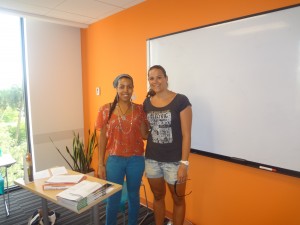 Every time we have a new Teacher of the Month, we also have a new Student of the Month. This month the lucky student is Christina who is in Michelle's Intermediate class. She is from Zurich, Switzerland and has already been in Miami for a few weeks. Keep reading to find out more about Christina and about Michelle's opinions of her student.
Christina's Miami Recommendation:
Miami is a great and a big city.  A must do is the sight-seeing tour include a boat tour.  You can see Star Island and the nice skyline of Miami.  I recommend you to hang on the beach when the weather is nice or go to cinema when the weather is bad.  On the evenings you have a lot of choices of bars and discos.  On the weekend you can go to Bahamas or Key West. Enjoy your time here – it's a great city and school!
Michelle's Comments about Christina
Christina is a great student to have in class! She is never afraid to go first when we do presentations or reading out loud. She is willing to overcome her insecurities and make mistakes for the greater good of learning and is great to have on your team if you're playing a game. Christina is also very willing to help a fellow student in need if they look like they are struggling. She takes the responsibility of learning English and runs with it.
Comments
comments