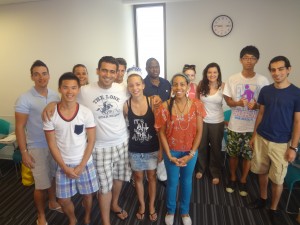 Congratulations to our Teacher of the Month, Michelle, who teaches the Intermediate class on Tuesdays and Thursdays. Michelle is originally from London and many students love to hear her British accent. Some EC Miami teachers like to compare the "correct" way to say words in American versus British English. Let's find out more about Michelle!
Michelle's Miami Recommendation
GET OFF SOUTH BEACH!! Don't be afraid to be adventurous and go to Wynwood for Art Walk or even go really wild and go camping in the Flamingo Everglades National Park. You can camp out on the beach under the stars and even see the Milky Way. If you want something closer to home you can rent a kayak off the bay and paddle to Monument Island.
Michelle's English Tip
DO SOMETHING NEW EVERYDAY! You never know when you will have that same opportunity again. Don't be afraid to take risks and be worried about making a mistake, imagine that you actually get it right. Try going to a fitness or yoga class in English and see how good you do even if you don't understand everything, neither do other people in the class. Remember, you are not alone.
Comments
comments