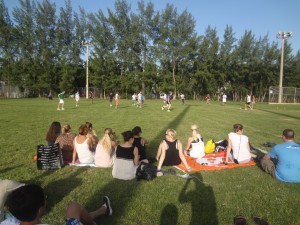 After a great soccer match a few weeks ago against another English language school on the beach, we decided to play again versus yet another language school. This time we met at Flamingo Park and played 8 on 8. It was a great match and EC Miami won! The teams disagreed about the final score, but it was either 2-1 or 3-1 depending on who you ask. We had a fantastic turnout for the game with almost 30 students attending and we were excited to have such a great cheering section in addition to super athletic players. The players worked together very well and they were led by some of our fearless Brazilian students.
Unlike last time when we only had a few people, this time EC Miami's soccer team had too many people and we had to use a lot of substitutions. We needed the subs because it was extremely hot. Our cheerleaders were doing a little more tanning than cheering with all of the hot weather!
In the end, everyone had a great time and we were happy to leave Flamingo Park as champions for the day. Now, we have to see what other teams in South Beach aren't too scared to play our EC Miami team!
Comments
comments