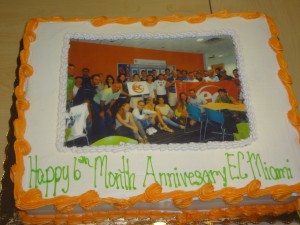 Last Friday we had a fantastic International Festival and 6-Month Anniversary celebration for EC Miami. If you haven't already seen our pictures, look on Facebook.
We started off the celebration by doing our regular graduation ceremony and we also had a raffle to choose a person who wore the most orange. Our winner, Anna from Italy, wore some bright, orange sunglasses. After the official ceremony and the important activity of singing "Happy Birthday to EC" we started eating.
Students brought food from their countries and EC also contributed pizza and cake to the celebration. We tried a coconut dessert from Brazil, sushi and fried chicken from Japan, pasta from Italy, chocolate and cheese from Switzerland, tortilla from Spain, and much more. All of the students had fun tasting the different foods.
Some students also had a lot of fun "eating their faces." The special 6-Month Anniversary EC Miami cake had a picture of the students on the front. So, students tried to find their face and get a special piece of cake with their picture on it.
As the celebration finished up, the graduating students said goodbye to their EC friends. People kept eating the remaining food and some student started dancing to the music. It was a great time and we are so happy that EC Miami is 6 months old!
Comments
comments