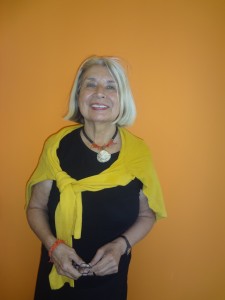 Sharon is another one of our new teachers and she is currently leading our low-intermediate class. She also did a wonderful lecture about the history of Miami Beach and the mob a few weeks ago. She has had a lot of very interesting experiences in her life. Did you know she used to be a flight attendant? To find out more, keep reading!
"I was born and spent my early childhood on a Sioux Indian Reservation in South Dakota. We moved from the endless horizon of the prairie to Southern California where I learned how much I love the sun, sand and ocean.
On my first job, as a secretary with the space program now known as Nasa, I met and worked for the new astronauts. They wanted to explore the galaxies and inspired in me a more modest desire to explore this planet Earth. I dreamed of farther horizons and a job as a flight attendant with Trans World Airlines gave me the opportunity.
I lived in New York City for many years traveling mainly to Europe and the Middle East. Exposure to so many countries and cultures instilled in me a fascination with different customs and languages. I always tried to learn a few words of the local language while traveling in every country. I qualified in French and Italian for the airline by studying for many months in Paris and Florence.
After I retired I finished college and I have now realized a further dream to teach English to students from all over the world. Almost always I have been to their country and I feel like we are old friends. My satisfaction in having my students make progress in the "global language" of English is immense and I have hopes to continue in my new career for a long time. I am a very lucky person."
For information about our other amazing teachers at EC Miami, click here.
Comments
comments