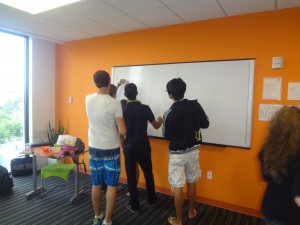 The Olympics have already started in London and the opening ceremony was last Friday. To celebrate the beginning of this special sports celebration we decided to have an EC Miami Olympics competition last week. Students were grouped into teams, which had people from various different English levels.
The teams had to do four events to determine the winner. The first event was  a spelling bee and students had to spell as many words correctly as possible. This was good practice for saying the letters in English as well. Next, there was the categories game in which the students had to think of words for every letter of the alphabet for various categories. For example, for the category "animals" the answers would be alligator, bear, crocodile, dog…
The other two games involved other English challenges. In the running remembering game, students had to run to another classroom and memorize an idiom or phrase and come back and appropriately report it to their team. The final game was similar to Pictionary, but you had to close your eyes! So, the pictures of trees looked pretty interesting!
In the end the winner of the competition was Team 5, the Hakuna Matatas! The winning team got gold (well, plastic) medals and a South Beach souvenir so that they can remember their time at EC Miami. Great work everybody and have fun watching the Olympics competitions during the next 2 weeks. Remember that you can always come watch your favorite Olympic event at EC Miami, we will be showing the Olympics all day long (until 5:00 p.m.)!
Comments
comments