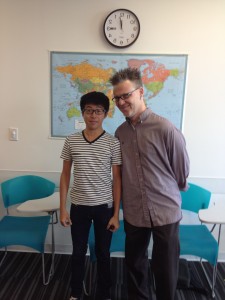 Congratulations to our teacher Mark who is our teacher of the month. Mark has taught many levels at EC Miami, and he used to teach Pre-Intermediate, but now he is teaching the Advanced class. He has been around since the first day that EC Miami opened in January and he is always popular with students because of his great sense of humor. Although he has lived all over the world, he is originally from Washington D.C. Keep reading to find out more about Mark's suggestions about things to do in Miami and ways to improve your English!
Mark's Miami Recommendation
Go to the new Marlins Park for a baseball game! The stadium is new (it opened in April) and has a moveable roof – so rain and heat are never a problem! Tickets are inexpensive and transportation to Marlins Park is very easy.
Mark's English Tip
Reading! It's the best way to learn new vocabulary, as well as to see how English functions in real context. Thirty minutes a day would be perfect.
Comments
comments