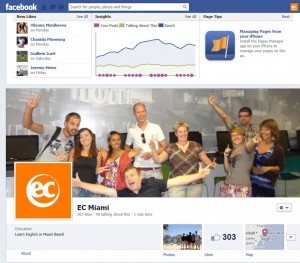 Recently, we hit a high level of 300 likes on EC Miami's Facebook page! We were very excited about this and we wanted to thank all of you for liking us. Even though we reached 300 likes, we are not done yet. We want to get more of you to "like us" and to try to get as many people talking in English on our page as possible. So, we thought we would tell you some things you might not know about EC Miami's Facebook page.
1) We often post our activities calendar on the page. So, if you forget what's happening after class at EC, you can always look on Facebook. Also, we will post if an event is cancelled because there weren't enough people signed up or because of weather.
2) Your picture is probably somewhere on it! We take a lot of pictures at EC Miami and it is very likely that you will find your smiling face on your page. Make sure to like the photo and show your friends from home!
3) You MUST write in English on our page. If you write a comment in another language we have to delete it. This is not because we don't like you. We just want to make sure that no one is saying anything inappropriate and that everyone can speak together, not just people from one country.
4) Many students who have attended EC Miami in the past write on our page and talk about their experiences on comment on our photos. These are GREAT people to talk to on Facebook to ask any questions about EC Miami or to hear a first-hand experience from a real student.
5) You can post on our page too! Write on our wall to talk to your friends and ask us any questions or give us some feedback. You can also comment on pictures and tag yourself! We would love to see more of your communicating in English on EC Miami's page.
Keep Facebooking! (Yes, it is a verb now).
Comments
comments