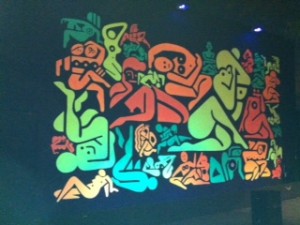 Are you already getting ready for your weekend plans? How about trying something different this weekend and getting off of South Beach. Two of our previous teachers of the month Michelle and Reese both suggested going to a place called Wynwood Art District for the Art Walk event that happens once a month. If you looked at our calendar this week, it's on there as a suggestion for Saturday evening!
This Saturday, August 11 and every second Saturday of each month you can go to this event from 7:00-11:00 p.m. At this event, the galleries in the Design District of Miami are open to the public and everyone can go look at the interesting art. This is not traditional art you would see in the Louvre, but instead more modern and contemporary pieces.
Even if art is not your favorite thing, it's a great event because it's almost like a street party. People from all over the city come to this event to see street art, listen to street music, and try some amazing food from Miami's food trucks. Food trucks are not traditional hot dog stands like in New York. Instead, they are special trucks that serve gourmet food for a discount price and there is a lot of variety.
All in all, it is a great way to spend a Saturday night and try something new. The event is located in downtown/Midtown Miami on NW 2nd Avenue between NW 36th St. and NW 20th St. so it's a lot of blocks. The best way to get there is by taxi, but you could also go bus. Ask at the front desk for more information and have fun checking out this new part of the city.
Comments
comments