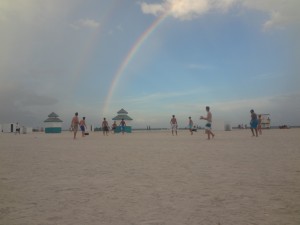 After beating another language school about a month ago we decided to play another soccer match against the team that originally beat us. We were eager to prove that we were the best soccer team out of all of the South Beach language schools. Juan led the activity and said that it was a small team at first and he was worried because EC Miami had four people and the other team had 12. EC Miami was definitely outnumbered, but then everything changed.
Suddenly, a group of 10 more EC students showed up with cheerleaders too! The match started quickly after that and our team consisted of primarily Italian and Spanish students, but we also had other nationality players too. The goalie, Badr from Saudi Arabia who was the first person to sign up for our soccer activity, did a great job and we won the game 6-3.
The students played their hearts out and it was a close match against Rennert's great team. During the game, there was a stunning double rainbow over South Beach and the EC Miami players said it was a lucky sign that they would win. They were right! (Can you see both rainbows in the picture?)
After the game they jumped around and celebrated, but they couldn't party for too long because the rainbow was a sign that rain was coming!
Comments
comments