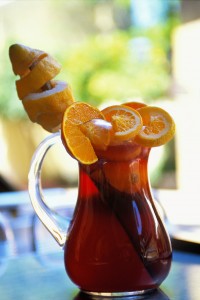 Tomorrow we have a great activity on our calendar for lunch and we wanted to tell you some more information about it, so you can sign up! Montaditos 100 is a local sandwich store, which has small Spanish style sandwiches. On Wednesdays they do a special promotion called Dollarmania when everything on the menu (drinks and food) costs $1. It is a great way to try a lot of different sandwiches and not spend too much money.
Montaditos are unique because they are very small and they use special bread rolls. The menu at this great lunch place is very long because there are so many different varieties of sandwiches.. There are traditional lunch favorites such as ham, cheese, and chicken, but there are also more exotic varieties. For example, there are Spanish style sandwiches, such as chorizo (a meat similar to sausage), spanish tortilla (a potato omelet), and iberico cheese (a cheese that is a blend of various animals' milk). There are also dessert sandwiches if you have a sweet tooth, such as cheese and dulce de leche sandwiches.
They also have some special Spanish beer and delicious sangria or wine to go with your meal, but only is you are 21 or older!
To find out more about Dollarmania and Montaditos, click here, ask at the front desk, or just join us for a yummy (and cheap) lunch tomorrow!
Comments
comments