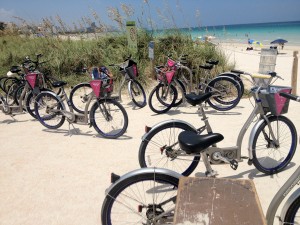 We know that many of you use your feet or your bikes to get around South Beach, but it is important to make sure that you follow the U.S. laws when you ride. There are many important laws to be safe, but here are just a few of the most important laws and safety rules.
1)      At night, always make sure that you have a light on your bike. If you rent a Deco Bike, it comes with a light that turns on when you pedal.
2)      It is a very bad idea to use headphones when you ride a bike because you cannot hear the sounds around you. Therefore, you should always make sure that you are not listening to music.
3)      You should ride on the right side of the road and try to stay away from the other cars. If there is a bike lane, use it!
4)      You are required to wear a helmet if you are under 16. Even if you are an adult, it is always a good idea to protect your head.
5)      It is illegal to drink and drive and the same is true on a bike. If you are driving any type of vehicle including a bicycle when you are drunk, you could get in trouble.
If you want more tips about bike safety, click here. Ride safe everybody!
Comments
comments