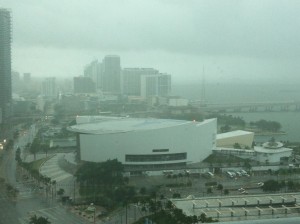 Yesterday, as many of your know EC Miami did not have classes because of the possibility of flooding and other rain-related problems from Tropical Storm Isaac. In fact, all of the public schools in the county of Miami-Dade did not have classes. Isaac's effect was different depending on where you were in the city of Miami and it primarily affected our arriving and departing students who had cancellations and delays with their flights. Today, we spoke to our current students about how they felt about their first tropical storm and their day off.
Students from Asian countries, such as Taiwan said that Isaac was nothing compared to the typhoons that they experience in the "rainy" season in their countries. Even students from countries like Switzerland felt like it was nothing too scary.
Other students said they felt a little nervous beforehand, but it never got really bad for them. Still others said that hurricanes and tropical storms can be scary because you never really know how much of a strong impact they might have. A few people said that the wind was the strongest they had felt in awhile.
Most of the EC Miami students and staff decided to close their windows and doors, watch television or movies inside and look out their windows at the rain and wind. This was the safest idea. For some students, it was a great opportunity to go to Sawgrass Mills because the shopping was inside. Overall, it was EC Miami's first tropical storm and we are all fine!
If you are interested in taking make-up classes, please ask at the front desk or talk to Elisa. These classes will be available on Wednesday and Friday this week if enough students would like to attend them.
Comments
comments