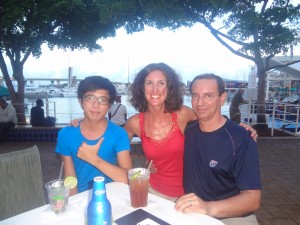 Bayside Marketplace is located in Downtown Miami and it is a great place to go to get "off of the beach." Some of our students went there the other night for a night of mojitos, shopping, and eating. Bayside has a lot of stores for buying clothing, electronics, and also Miami souvenirs. There are many places to get Miami shirts, hats, key chains and other goodies for your friends and relatives in your home country.
Another great thing about Bayside is the food, drinks, and entertainment. There is a live band almost every day of the week and some brave tourists often dance in front of the band area. You have many restaurants to choose from including Latin American, seafood, and Italian places. Hard Rock Cafe is also located in Bayside Marketplace. Many bars in the marketplace advertise that they have the "best mojitos" and you can sit outside and sip your cocktail while having a fantastic view.
Many people like to go to Bayside just to enjoy the view of the bay and the boats in the marina. If you want to try going out on Biscayne Bay, you also have the opportunity to go on a boat cruise with a speed boat, party boat, or even "pirate" boat.
So, next time you are interested in going somewhere new and seeing a new area of town, check out Bayside. The best way to get there is by taking Bus S. While you are downtown you can also explore places like the American Airlines Arena and Bayfront Park.
Comments
comments