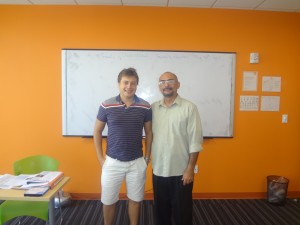 Pavel, who is in our Pre-Intermediate class, is from Moscow, Russia and we are happy to announce that he is our student of the month for September. Pavel's teacher Jose, recommended him as student of the month and said some nice comments about Pavel.
"Pavel is very interested in learning and improving his English. He is constantly asking questions on pronunciation or new vocabulary. His motivation grows with every class." – Jose
Pavel has been at EC Miami for awhile now and has already moved up a level, which is great! He has some recommendations for students who are studying English at EC Miami. These are his three suggestions for having a good time while you are studying here.
"EC Miami is a great school: there is here a friendly atmosphere and excellent teachers.  This is what you need to speak and think in English.  My recommendation: 1) Only speak English 2) Take bicycle 3) Smile!!!" – Pavel
Congratulations to Pavel! Keep working hard and continue smiling!
Comments
comments