Mark will be the first to tell you that in the U.S. the term "Football" is used to describe the sport of the NFL, of the Super Bowl, of many colleges across the country, and most importantly, it is used to describe the sport that spurs much rivalry between teams like the Greenbay Packers, the Pittsburg Steelers,  the Chicago Bears, and amongst staff members,  the Washington Red Skins and the Texas Cowboys.
During this month's lecture series, Mark enlightened students and, eh hem, certain staff members on the ins and outs of understanding the game.   Students caught on quickly and by the end of the lecture they were shouting out terms such as "punt", "down", "linebacker" and will all fondly remember "The Icky Shuffle".
Thank you Mark for shedding light on this national sport and treasure so early on in the season!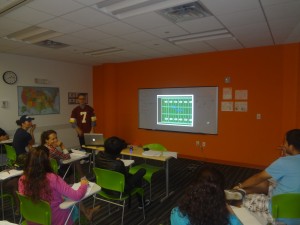 Comments
comments