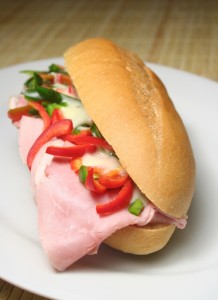 On this week's activity calendar, we have a suggestion to go to La Sandwicherie. This local sandwich store is well-known around Miami Beach for having delicious food in a great outdoor location. The shop is located at the corner of 14th St. and Washington Ave., so you can easily grab a sandwich and then head to the beach to eat on the sand or sit on one of the stools near the counter and get sprayed by cooling mist.
La Sandwicherie serves classic French baguette sandwiches and there are many different types available including ham, turkey, camembert, and more. It also has croissants and other classic, French lunch snacks. According to some South Beach locals, it is the best sandwich "on the beach."
If you are watching your weight and want to avoid bread products, the sandwich shop also serves salads and juices, including special veggie/fruit juice mixtures. So, next time you are looking for a delicious lunch, check out La Sandwicherie. If you are one of our French students, you can tell us how authentic it really is, but we think it's pretty good for French-style sandwiches in Miami!
Comments
comments